What is Net Zero?
Countries, cities and companies are increasingly committing to reaching net zero by 2050 – removing as much CO2 as they produce to limit global warming. By definition, net zero emissions means reducing greenhouse gas emissions to the lowest possible level, with any remaining emissions reabsorbed by the atmosphere by means of oceans and forests.
The energy sector is critical to addressing the global climate crisis as it is the primary source of worldwide emissions. Governments have made numerous commitments and efforts to tackle the causes of global warming. Yet, since the United Nations Framework Convention on Climate Change was signed in 1992, CO2 emissions from energy and industry have increased by 60%.
The number of international pledges and initiatives is rising. However, they are still far short of what is required to keep global temperature increases to 1.5 °C and prevent the worst effects of climate change. The goal to Net Zero by 2050 Roadmap, which identifies more than 400 milestones for what must be done and when to decarbonize the global economy within three decades, offers a roadmap to accomplish this challenging and vital goal. A normative IEA scenario called Net Zero Emissions by 2050 (NZE) shows how the global energy sector can achieve net zero CO2 emissions by 2050, with advanced economies achieving net zero emissions ahead of others. Short- and medium-term emission reduction goals, consistent with the Paris Agreement, are set all over the globe to eliminate the worst impacts of climate change this decade.
The importance of corporate Net Zero targets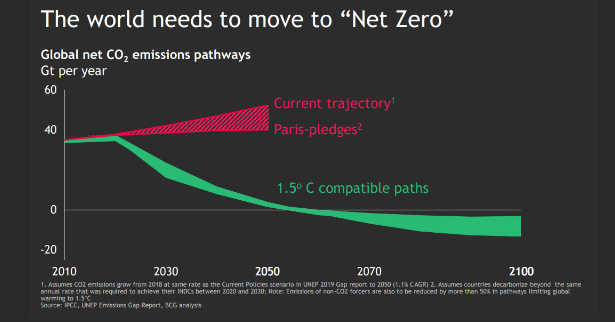 To achieve this, we must balance what we harvest from the environment with the greenhouse gases we release into the atmosphere.
So as to prevent the harmful effects of climate change, 197 nations pledged to maintain temperature increases well below 1.5°C under the Paris Agreement in 2015.
In its report from 2018, the Intergovernmental Panel on Climate Change (IPCC) concluded that "global net human-caused carbon dioxide emissions would need to fall by about 45% from 2010 levels by 2030, reaching net zero around 2050. pooiiz
Accordingly, any remaining emissions brought on by human activity that cannot be reduced must be offset by removing CO2 from the atmosphere.
Khaitan on the way of Net Zero target.
An increasing number of countries, cities and organizations have pledged to reach this goal within 2050. Thus turning the net zero promise into a mainstream act. Khaitan bioenergy aims on net zero and decarbonisation by being part of organizations that support target. The initiative "Net Zero Tracker" has mapped out the number of net zero pledges of countries, cities, regions, and organizations. The focus is to get an impression of how significant an impact these entities may have on reaching the target. According to the reports, 90% of the worldwide economy is committed to achieving net zero. Out of 2000 of the largest publicly traded companies worldwide, the Net Zero Tracker has identified 683 with target.
Net Zero targets by various corporates
On an organizational level, the quality of the net zero targets varies. While some companies have set ambitious targets for deep emission cuts, others have set modest emissions reduction targets. Mainly lacking detailed abatement planning. The variation in the quality and structure of targets makes it harder to compare companies' net zero targets and their implications.
The Net Zero Standard
The net-zero commitments need to translate into quantifiable goals and plans for which businesses can held responsible. Net zero aims are now more transparent, comparable, and likely to be of high quality. And also it succeed by being in line with standards. One such standard that provides substance and direction to targets is the SBTi's (Science Based Targets Initiative) Net Zero Standard. The SBTi Net Zero Standard offers a comprehensive, common net zero concept grounded in science. The standard is the first of its kind in the world to give businesses a way to contribute. Also to making the world economy reach the goal.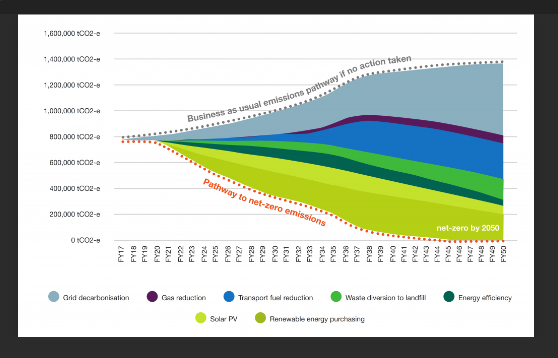 Corporate net zero targets vary in three ways: the target's boundaries, the mitigating measures selected, and the deadline for achieving the target. Aiming for significant emission reductions in its scopes 1, 2, and 3 of at least 90% by 2050 . Also halving their emissions by 2030, businesses to comply with the Net Zero Standard must set both long and short-term goals.
According to the Net Zero guiding principles, there are two requirements for achieving net zero and keeping warming to 1.5°C:
Achieve value-chain emission reductions on a scale. It is consistent with the level of mitigation reached in paths that keep global warming to 1.5°C with no or minimal level.
To permanently remove an equivalent amount of atmospheric Carbon dioxide. Thus to offset the effects of any remaining sources of residual emissions.
Corporate net zero targets are crucial for businesses to demonstrate that the private sector can advance the fight against climate change. Pledges for net zero are becoming more common, but setting a science-based goal demonstrates accountability.
Refinery Carbon Reduction
The following strategic actions should follow to reduce direct CO2 emissions at oil refineries:
Energy efficiency
Improvements in energy effeciency considered by many as a cost-effective mitigation method. Although they may only be able to reduce emissions by 5-10%.
The rebound effect, a phenomenon that would somewhat offset the advantages. It has also been suggesting as a possible outcome of increased energy efficiency made possible by technological advancements.
Increases in energy efficiency cannot primarily drive the decarbonization of the refining sector.
Carbon Capture and Storage
Since the 1970s, the oil and gas refineries has pioneered using CCS technology. It mainly focus for enhanced oil recovery (EOR), establishing a foundation for its implementation in other CO2 mitigation applications.
There has been extensive research on using CCS technology to lower emissions in refineries.
The general view is that collecting CO2 from larger combined emission stacks is feasible.
The forecasts include CO2 capture from bigger emission sources. It may be steam methane reformers, fluid catalytic converters, crude atmospheric and vacuum distillation units, and power plant stacks.
According to their assessment, the CO2 capture and compression system comes in second place. With a cost of 47%, followed by interconnectors. It retrofits at 38% and utility plants operating on natural gas at 15% of the total cost of CO2 avoidance.
On the other end, several emissions from boilers, heaters, or furnaces dispersed around a refining site are more complex to control because of their lower CO2 concentrations and flow rates, as well as the possibilities for contaminants.
The economics of CO2 capture from various diverse point sources is still poorly understandable. Thus site-specific assessments need for a more accurate estimation.
Fuel Shifting
Fuel shifting is another important to choose the appropriate approach considering fuel combustion contributes to about 70% of a refinery's emissions.
Switching to biomass could produce a significant environmental burden and potentially disrupt the biomass industry, despite being appealing in terms of CO2 reduction and cost.
Also, because of administrative and security concerns, direct-fired heaters and boilers utilizing solid biomass are considering as impractical in oil refineries.
On the contrary line, gaseous fuels, specifically for the combined heat and power (CHP) plant, could function as drop-in fuels without the requirements for extensive refinery operations restructuring.
Although there is an anticipation that the operation of hydrogen-fired boilers will be as stable as that of their natural gas equivalents, such boilers have not undergo testing in a manufacturing environment. Thus raising the question about the type of heat transfer and the degree of gas emissions.
The same is for electric heating if operating costs dramatically lowered and the technology demonstrated to be dependable.
The worldwide energy sector in 2050 is based mainly on renewables, with solar the single largest source of supply.
All governments must have a single, constant objective while collaborating closely with corporations, investors, and citizens to bring about this cleaner, healthier future.